Dale Hallack, Saxophonist Extraordinaire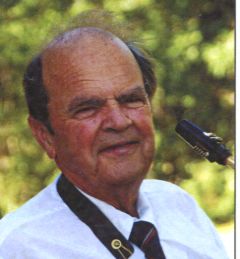 One of the joys of attending an event like The International Music Camp is listening to wonderful music and getting to know very talented musicians. This page is my little tribute to a relatively unknown, but very talented alto saxophone player, Dale Hallack from Reno, Nevada.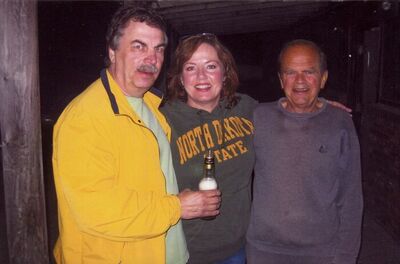 Here's a picture, in better times, with Dale, me and Rita at an undisclosed drinking establishment in North Idaho. I was holding the beer for a friend! nice article about Dale in the Minot Daily News on the occasion of Dale's 40th year at IMC ... yeah, 40 years ... that's a lot of summers!
Dale started to play saxophone (on a Conn "mezzo-soprano" or "F") in 1949 at the age of 10. His first teacher was his father M. Dale Hallack ... an original member of the Lawrence Welk Orchestra, as Dale says, "before Welk made it big". Dale then progressed from the "F" to a tenor and finally decided that there was nothing better for him than alto (Dale plays a customised Selmer Mark VI). I and many others are very glad that he did!
Dale was taught by the best in the business: Siguard Rascher, Al Aalladoro, Fred Hemke and Daniel Deffayett to mention only a few. His greatest mentor and teacher was Gregory Stone, conductor of the Reno (NV) Philharmonic Symphony Orchestra which featured Dale as a soloist in many performances.
Dale had the most beautiful tone imaginable on saxophone. I'd describe it as a sweet-sounding Paul Desmond The problem is there aren't any recordings to listen to! Dale has played with symphonies, taught and currently, again according to Dale, "plays on Sundays in church". Lucky church members!
Sadly Dale passed away in May 2022. I've not seen or chatted with him for a number of years and am a little angry at myself for not making an effort to keep in better touch with him. I think I can speak for everyone who knew him or heard his playing in saying "Dale, you are missed!"
2010
On August 2, 2010 I was fortunate to hear Dale play two pieces on the stage at the Adult Session of IMC. And, I had my handy Zoom H4 recorder to record the event from my seat in the audience.
The first number is Pie' Jesu (from "Requiem") by Andrew Lloyd Weber. Playing with Dale are Marian Casey (soprano saw) and Diane Thornton (piano). Oh, and yes, Marian really does play the saw. A very ordinary Stanley saw you can pick up at any hardware store. Of course, she's using a very good bow. Not to mention the understated fact that she, too, is a wonderful muscian. Have a listen to the group:
Later that evening things got even better. Dale premiered Improvisation Breve a piece written for him by Gregory Stone (an early arranger for Paramount Pictures). Dale was accompanied by the IMC string orcestra conducted by Jane Linde Capistran.
2011
Here are two more recordings of Dale from July 31, 2011. First, a spectacular demonstration of his complete mastery of the alto saxophone. Carnival of Venice (composed by Jules-Auguste Demersseman, arr. Hemke). Normally this is a "show off" piece for trumpet players. Well, guess it's a show off the saxophone as well. Dale is accompanied by Diane Thornton on piano.
Later in evening Dale joined with Karin Klassen (Violin) and Diane Thornton (piano) to present Trio Concertante for Violin, Saxophone and Piano (Leon Stein).
| | | |
| --- | --- | --- |
| | | This page was last modified on 2023-09-19 |